Foam materials can be quite versatile and useful to be used in various applications and industries. Here we are going to introduce something about industrial foam parts. You will be amazed to find out the wide range of applications for foam materials.
Molded Foam Parts for Personal Protection Market
It is no doubt that molded foam parts are widely used across the personal protection market. From leisure and sports products to industrial safety equipment, many development and manufacturing molded foam solutions continue to help the personal protection market.
The advantage of the manufacturing method used for molded foam parts is the ability to mold small and large parts with topnotch precision elaborately. The foam molding process is highly favorable due to several advantages like cheaper manufacturing cost where no materials are nearly wasted.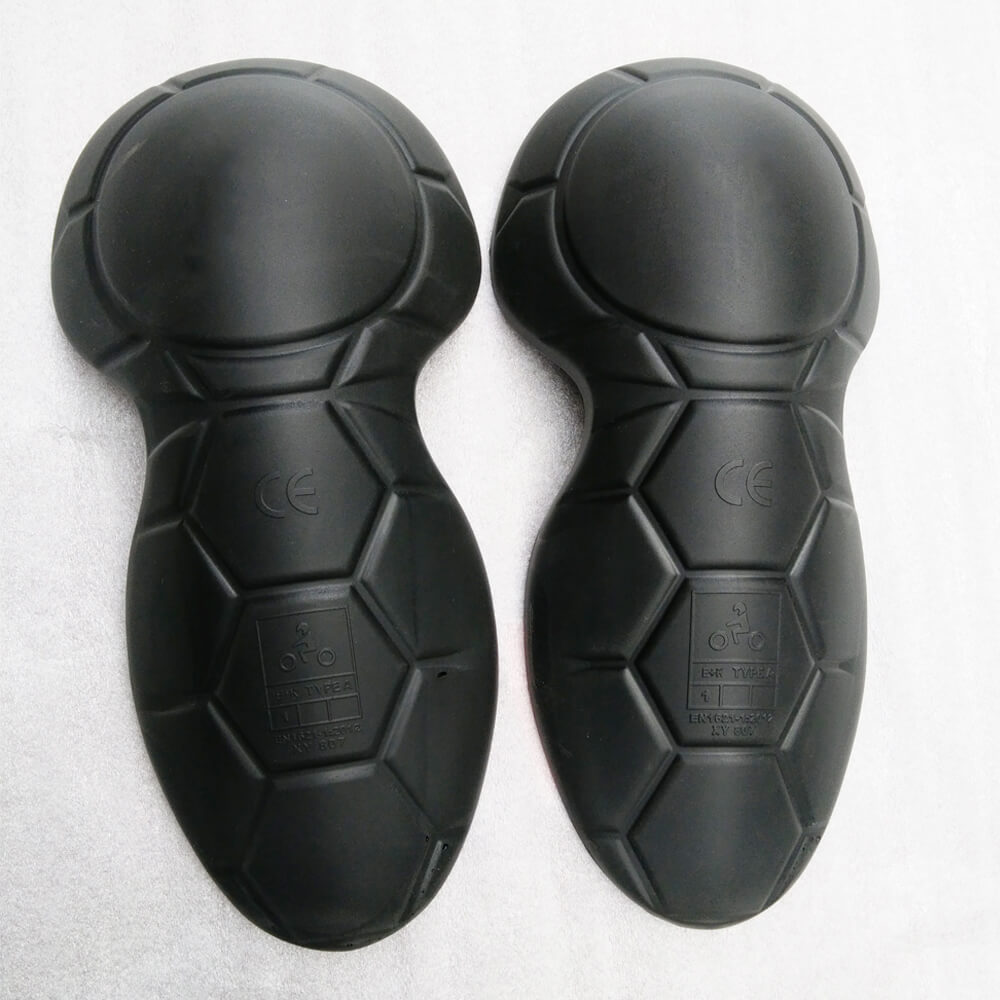 How is Molded Foam Parts Made?
Molded foam parts for personal protection products are primarily manufactured to replace the metal parts in a wide range of applications. Silicone rubber, plaster or concrete, epoxies, resins, and different types of foams are commonly used molding compounds. For example, a manufacturer uses a compression molding, which is a process to form rubbers and thermoplastics into a variety of shapes. The most common methods for making molded foam is thermoforming and injection molding.
Manufacturers may use both open and closed cell foams such as polyvinyl chloride foams, cross-linked polyethylene foams, EVA foams, or open-cell urethane foams. Woven fabrics, pressure-sensitive adhesives, medical-grade coatings, and polyolefin films are materials used for composite foams.
To make molded foam parts, manufacturers pre-heat the foams in an oven until become pliable and then, place it into an open mold. After putting in the mold, the hydraulic press is used over it to create a contact throughout the mold surface. Once the desired shape is achieved, the foam is allowed to cool and harden. Then, they will open the mold again and remove the newly molded parts.
What Are the Benefits of Molded Foam Parts?
Molded foam parts are commonly applied to products related to protection, containment, shipping, covering, and more. So, it is not surprising why the personal protection market continues to purchase and use products with those kinds of parts.
Better Support
Products that are applied with molded foam parts are known to offer better support compare to ordinary slab foam. They also provide a longer service life and better bounce effect.
Efficient Finishing
Better appearance of the finishes can be obtained using molded foam parts. So, end-users will not only be benefited in the interior features but also the aesthetics of the products.
Flexible Designs
Personal protection products with molded foam parts can be easily contoured and enhanced to offer enhanced comfort. Then, the end-users can experience product efficiency without additional cost.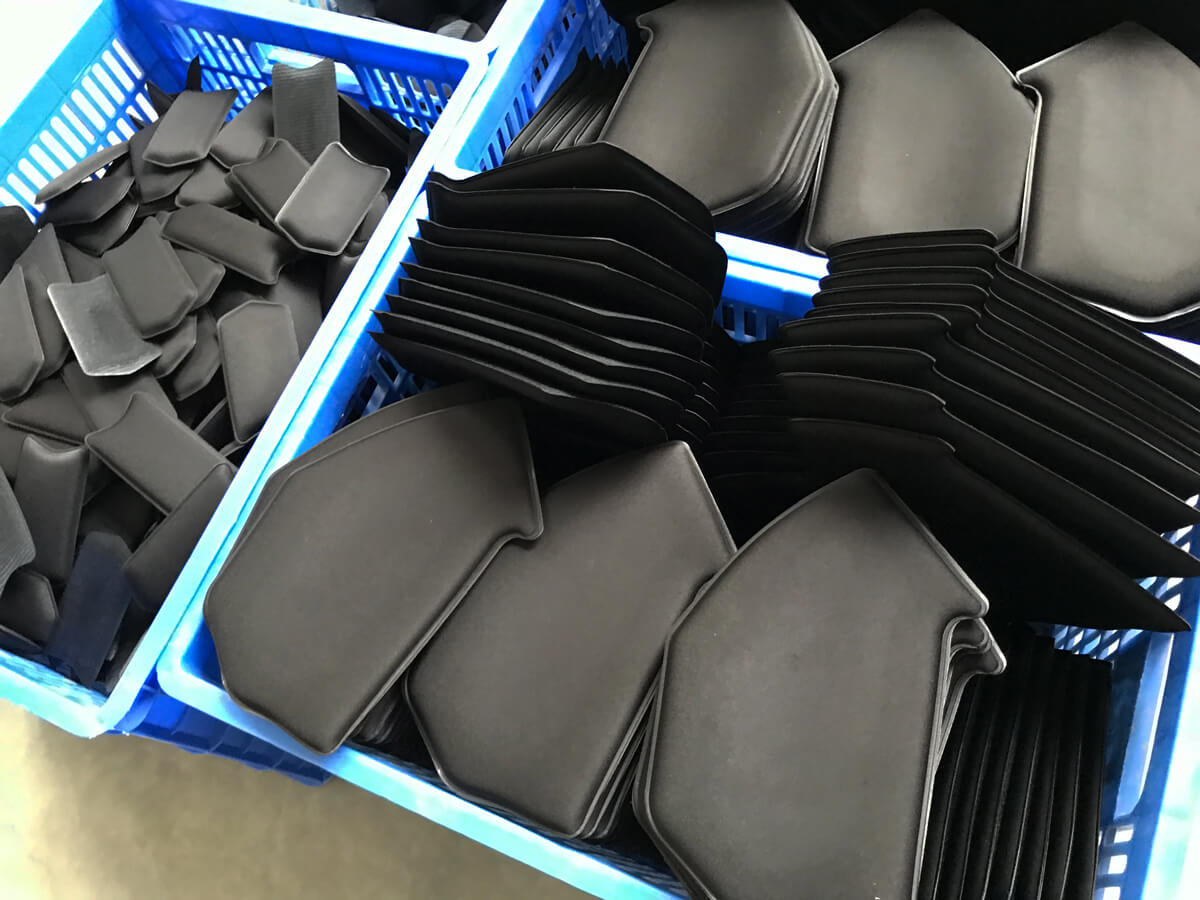 What Are the Applications of Molded Foam Parts for Personal Protection Use?
Due to product and technology innovation, the applications of molded foam parts to the personal protection products became limitless. Some of the uses for these molded foam parts include:
Comfort padding parts for recreational, military, and industrial helmets
Padding components for leg or ankle braces
Components of protective eyewear for recreational, military, and industrial market
Elbow and knee pads for recreational and military applications
Padding components for recreational and military backpacks
Industrial or occupational padding and safety support components
Even though molded foams have long used in the packaging applications, they have innovated to benefit the personal protection market. Now, there are plenty of products with molded foam parts that are not only intended for packing protection, but also for complete personal protection.
Industrial Filter Foam Components
How is Industrial Filter Foam Components Made?
Also known as reticulated filter foam components, they are made through what is known as a two-step manufacturing process. They can be made of polyurethane, ceramic or metal. During this manufacturing process when creating making polyurethane a traditional procedure creates polyurethane foam which is closed, then what would be called the windows are removed.
Since they contain a high surface area and lowered mass as one would compare to the edges, it makes them more easily chemically broken down. When a ceramic foam is created instead the polyurethane is covered in a ceramic powder, after which the material is heated to blend it together and flash off the polymer. Metal would be created in a similar fashion but turned to vapor and deposited onto the foam and again the flashing off the polymer.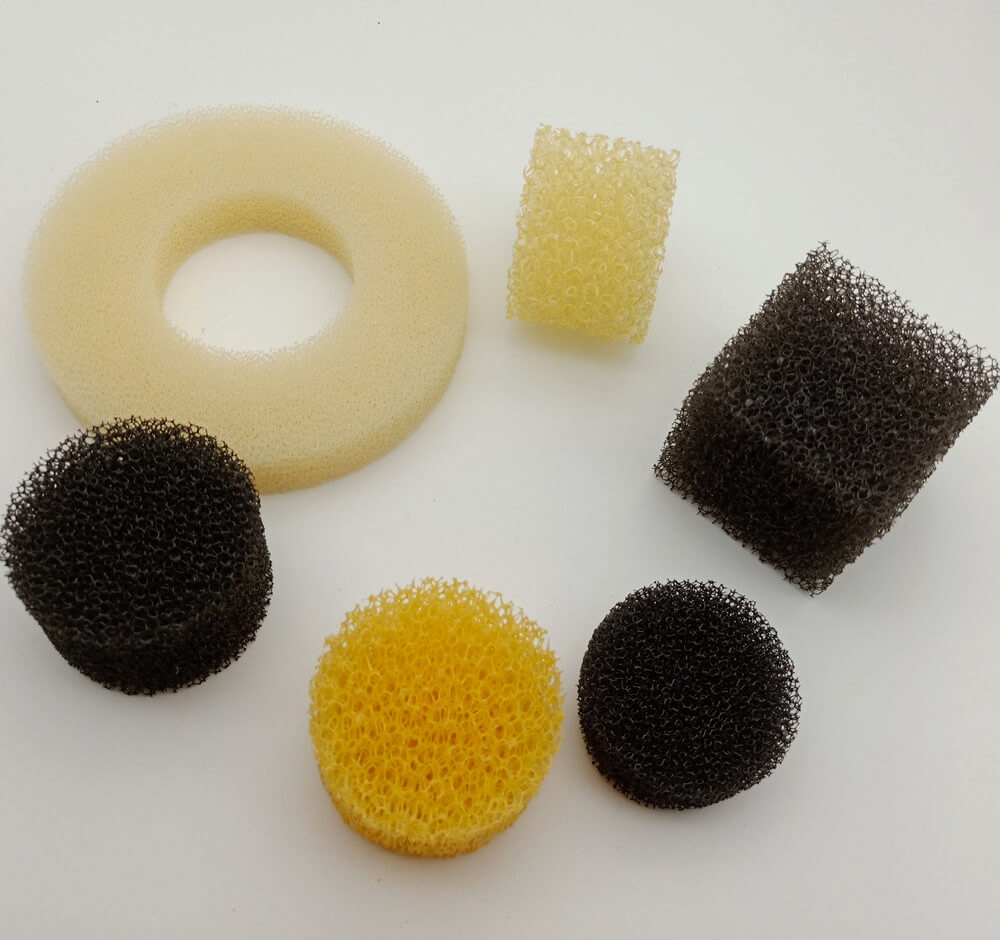 The Benefits of Industrial Filter Foam Components
This type of foam has great filtration benefits. It has a high resistance to chemicals. It is a lightweight product with great energy absorption. It is resistant to mildew and has a low-density thermal conductivity. It is also great for cushioning and is highly compressible.
The Applications of Industrial Filter Foam Components
Such areas that this product would be used greatly is:
Gaskets and Seals
These are used in a variety of applications to manage the vibration, liquids or temperature of most often in the automotive industry. They can also have great value in the chemicals industry and the medical field relating to devices. We can't forget the building and construction field. These industries would have a hard time functioning on a variety of levels without the use of this product.
Acoustical Sounds
Since it can absorb sound very well it is great for sound control components like microphones, the speaker systems in your home or vehicle. They also have a place in the automotive industry as well as the military industry.
Managing Fluids
In the medical industry this foam is praised and valuable. From the wipes that are used to clean areas, to industrial sponges, oil wicking applications for vehicles as well as transport type devices in printer ink cartridges. It has many applications and uses in the medical industry.
This versatile product allows for the expandability into other areas. This can happen using other materials, like ceramic and metal to change the way we use this product. Other areas where this product is widely used is puppets, shoe polish, face masks, scrubbers, humidifiers pads and air conditioner filters to just name a few.
Whatever application we care to use it in, this product offers great potential in a wide variety of areas within the world. It can be far reaching into the future as to what else we can do with this product. Time and experimentation will tell this whole story. In the meantime, we can see all that it has to offer so far within the automobile and the medical industry.https://en.wikipedia.org/wiki/Hydraulic_press
Custom die-cutting industrial foam parts
Die-cutting is an industrial process known for its versatility and reliability. It is the best way to cut foam into set shapes for industrial purposes, and beyond. It is an excellent method to achieve high-quality results more consistently. Keep reading to learn more about it and found out why it is so beneficial and flexible!
How Are Custom Die Cutting Industrial Foam Parts Made?
As you might know, custom die-cutting requires specialized tools. While amazing gear is helpful, great equipment is not the only thing to consider. The experience of the technician performing the job is as important as quality tools. An experienced foam worker knows how the material responds to the process. Because of this, they know how to get the desired results in a fast and hassle-free manner.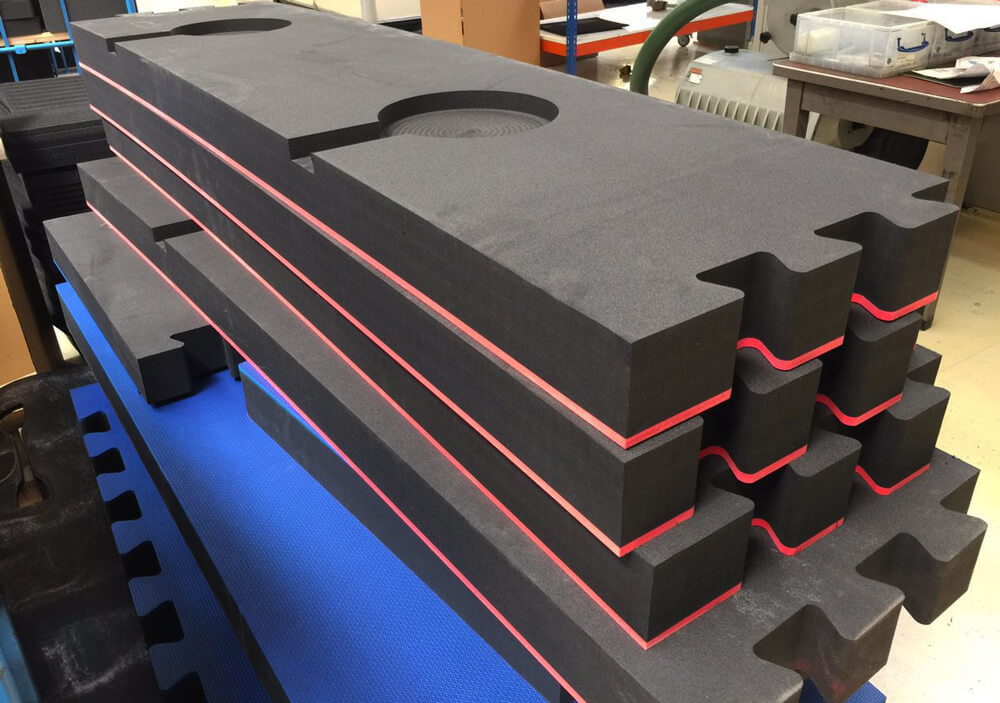 The actual manufacturing process happens in a machine known as a die-cutting press. This device uses rule dies made of sharp steel. It also has a hydraulic press, which is very important. It falls onto the raw material, so it is possible to cut it to shape in a vertical orientation. The technician feeds raw material through the machine this way. Die-cutting presses are perfect to work with thick and tall raw materials. They can open the doors to a broad range of possible applications, given their flexibility. Because of the intelligent design of die-cutting presses, it is possible to achieve various shapes. Thickness and size are also very easy to control and manipulate as needed.
The Benefits of Custom Die Cutting Industrial Foam Parts
There are many amazing perks of relying on this process. One of the main benefits of die-cutting industrial foam parts is that you can achieve any shape you desire. As mentioned earlier, the flexibility of the tools allows for a wide range of options. This is a customized process, and the end result can meet your requirements in most cases.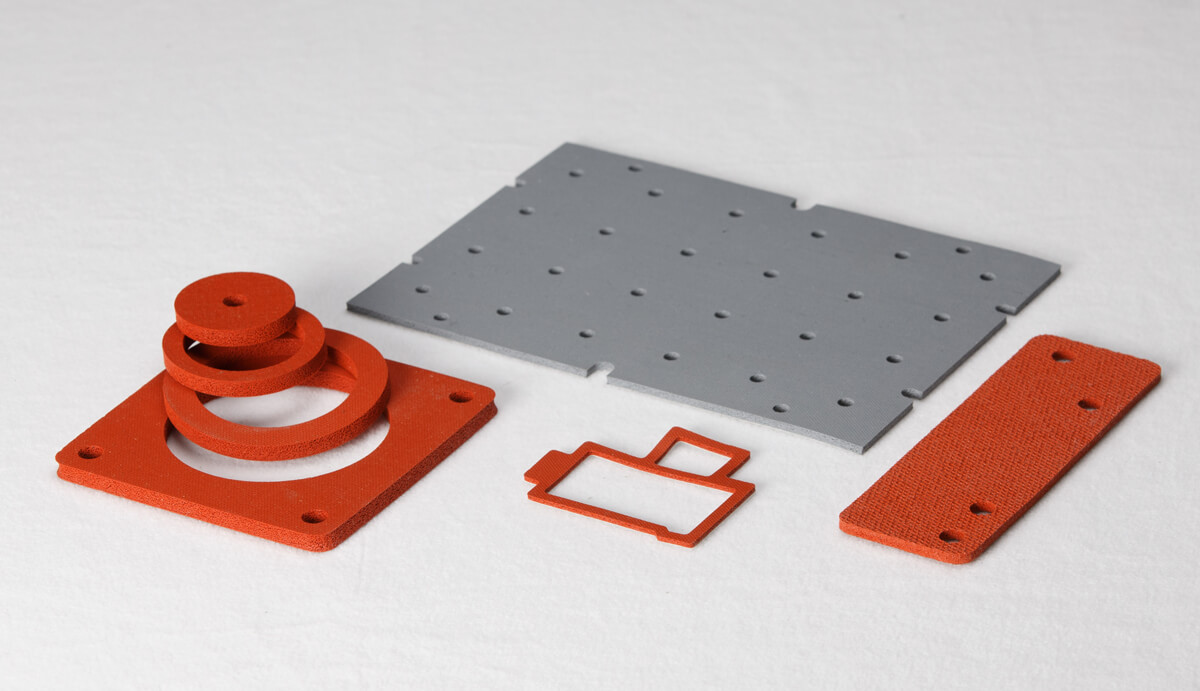 It is also worth considering the cost factor. Custom die-cutting industrial foam parts are affordable and accessible. This is a very reliable production method and a sustainable expense. Most businesses can afford industrial foam parts made with die cutting!
The Applications of Custom Die Cutting Industrial Foam Parts
Industrial foam parts made with die-cutting are easy to find in so many industries. From insulation material to gaskets, seals, and even packaging materials, anything goes.
Industrial Use Foam Composite Materials
Foam composite materials have many applications from domestic purposes to industrial use. It comes in various forms, sizes, and density levels. They have become a crucial part in the development of numerous industries and an essential component of our daily comfort.
Most of the times, we barely realize the importance of industrial use foam composite materials, so let's take a closer look at how they are made, what are their benefits and their applications!
How Are Industrial Foam Composite Parts/ Foam Composite Materials Made?
Industrial foam is highly-efficient for insulation against air, water, chemical substances, and adhesives. There is a wide range of applications for these materials, and they differ depending on the stiffness/flexibility features that result from the fabrication process.
Industrial foam composite parts are made from Diisocyanates, which are a family of chemical-building blocks used to make polyurethanes for various purposes. Without these chemicals, most of the insulation materials would lack long-term efficiency.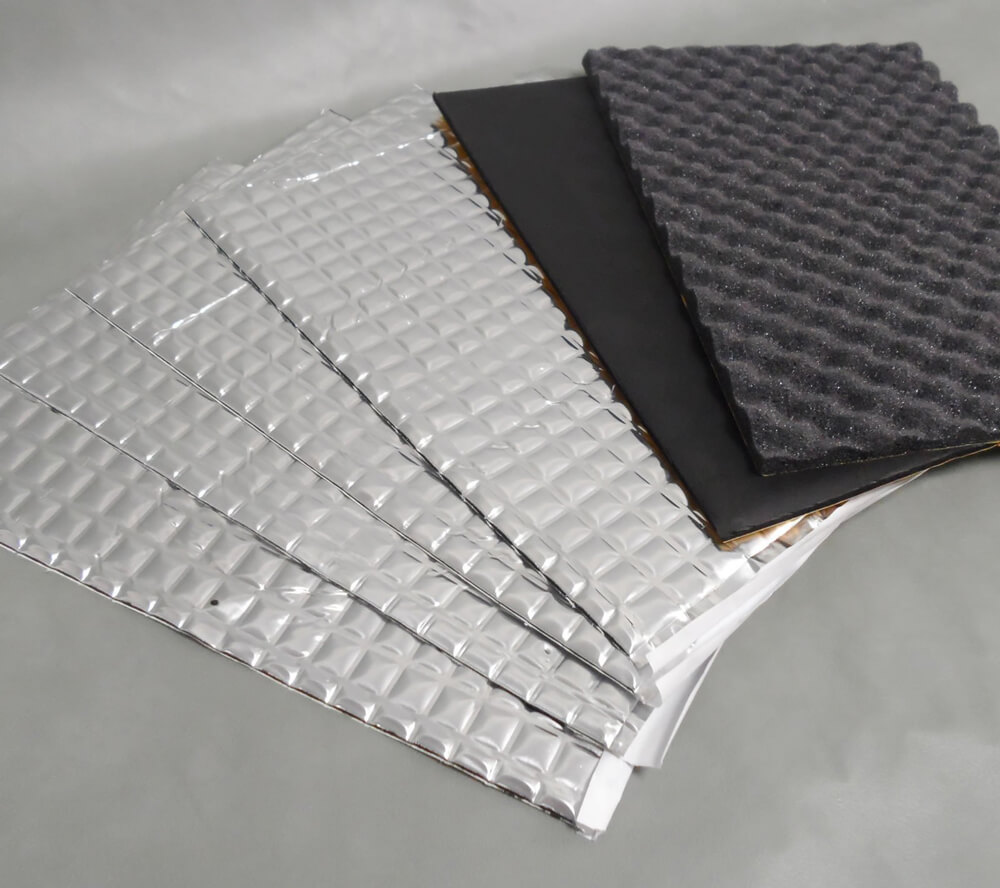 Foam manufacturers combine Diisocyanates with a significant number of other chemicals in various formulas to produce a broad range of industrial materials, such as:
Flexible foams
Rigid foams
Seals
Gaskets
The Advantages of Industrial Foam Composite Parts/ Foam Composite Materials
Industrial use foam parts are versatile, cost-efficient and durable. There are no other man-made materials that have a wider range of uses or a larger number of applications. This material has a lifespan that extends for decades in a row mainly because it maintains its properties in spite of damaging or corroding agents.
Additionally, industrial foam composite materials have several environmental benefits, such as:
Weather-resistant
Lightweight
It reduces emissions
No toxicity
High bending resistance and rigidity
Insulating
Protective
Good fatigue resistance
Adhesive properties
The Applications of Industrial Use Foam Composite Parts
Industrial use foam composite materials are cost-effective solutions in various industries where its high resilience and flexibility make it ideal for producing durable equipment and protecting important devices.
The many applications of this material include:
Compaction and compression for bioreactors, waste management, and bio-filtration tanks
Air filtration for a great number of industries including aerospace and aviation
Temperature control for household appliances, HVAC systems, cabin air filters, and air engine filters
Padding for large industrial equipment
Protection for building and construction materials
Soundproofing for large industrial halls
Hood filtration and waste oil removal for the food-processing industry
Insulation for sensitive manufacturing processes
Condensation prevention and energy conservation
Protection against impact
Insulation against dust and vibration
Mold and mildew prevention
High resistance to a broad range of extreme temperatures
These are just a few of the many uses for industrial foam, and with the advent of manufacturing technology, there is a virtually endless range of types and applications still to be discovered, and which will serve tomorrow's needs and requirements.